Wray Creek is a 0.5-mile-long creek running through Buddhaland. It serves as the country's southern border and is the only way of transportation in Buddhaland. It starts at an intersection of two county roads and travels in various directions. It travels from Turtle Bend to Waterfall Ridge and serves as a small waterfall. On June 14-15, 2016, a flood caused the creek to rise about a foot, flooding the cities of Turtle Bend and Waterfall Ridge.
A tributary of the creek runs through Spa Springs. This tributary is roughly 0.3 miles long and comes from Hilltop Cave, a cave that is located nearly 0.8 miles from the capital, Turtle Bend. This tributary also meets with the main stream right before entering the Spa Springs city limits.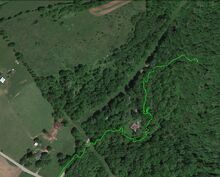 Ad blocker interference detected!
Wikia is a free-to-use site that makes money from advertising. We have a modified experience for viewers using ad blockers

Wikia is not accessible if you've made further modifications. Remove the custom ad blocker rule(s) and the page will load as expected.