Rainstorm Xi was the second Category 5 rainstorm to be monitored by the Weather Center of Buddhaland. Xi produced 25" of rain throughout parts of Iowa and Missouri in early-August 2016. Xi was the 36th named storm of the annual season. Having developed in favorable conditions, much of the warm, moist air produced slow-moving rain showers. This caused flooding in much of the Great Plains, which were already affected by Rainstorm Mu.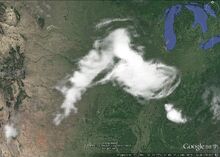 Ad blocker interference detected!
Wikia is a free-to-use site that makes money from advertising. We have a modified experience for viewers using ad blockers

Wikia is not accessible if you've made further modifications. Remove the custom ad blocker rule(s) and the page will load as expected.