Rainstorm Eta was a rainstorm that severely affected parts of Alaska in late July 2016. The 29th system of the annual season, Eta formed from the extra-tropical remains of Tropical Storm Lupit in the Western Pacific. Eta was also the seventh major storm of the season. Eta was also the longest lasting rainstorm ever recorded.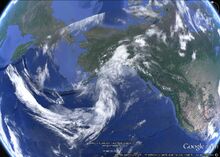 Meteorological history
Edit
On July 24, the remaining Tropical Storm Lupit in the Western Pacific dissipated. The remnants traveled quickly over the Northwestern Pacific to Alaska, where the storm was named Eta. Eta stayed stationary over the Anchorage area, where 15" of rain fell. Eta also reached a record low pressure of 1002 millibars, beating the previous record set by Hurricane Darby. Eta continued to linger over the Anchorage area until July 27, when the convection began to weaken. Eta weakened rapidly on July 28 and dissipated on the next day.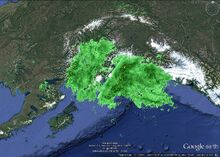 Ad blocker interference detected!
Wikia is a free-to-use site that makes money from advertising. We have a modified experience for viewers using ad blockers

Wikia is not accessible if you've made further modifications. Remove the custom ad blocker rule(s) and the page will load as expected.