Rainstorm Alpha was the first rainstorm to be given a Greek name. Alpha was the 22nd named storm of the 2016 United States storm season. Alpha brought 5" of rain near the city of Tacoma, Washington.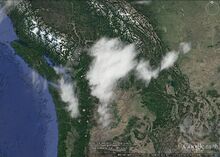 Meteorological history
Edit
On July 21, an extra-tropical cyclone from the Pacific Ocean started to make a track towards Washington. The storm moved ashore as a weak, disorganized rainstorm on July 22. The storm was quickly discovered on both radar and satellite imagery and was named Alpha. The storm remained over the Canadian-U.S. border over the following hour. Alpha began to intensify quickly late in the morning on July 22. A pressure reading measured a pressure of 1016 millibars near the center of Alpha.
Ad blocker interference detected!
Wikia is a free-to-use site that makes money from advertising. We have a modified experience for viewers using ad blockers

Wikia is not accessible if you've made further modifications. Remove the custom ad blocker rule(s) and the page will load as expected.