EF5 Pierra/Sesco/Nornan Tornado
The tornado entering downtown Pierra

Some attributes

First
238 MPH EF5 Tornado
Second
$5.20 billion (2012 USD
Third
3,291 deaths, 14 in-direct, ~100,000 injured

Other attributes
The 2012 EF5 New Gilberto Tornado was one of the strongest tornadoes ever recorded on Xinnia. Strangely, the tornado was the only tornado the supercell produced.
Carmaria Plaza
suffered irreparable damage, forcing a rebuild of the tower.
Meteorological History
Edit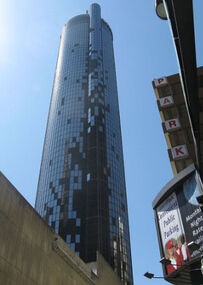 At 3:01 PM, October 5, 2012, an isolated thunderstorm created tornado West of Pierra. The tornado immediately gained violent strength, leveling Nornan and half of Sesco. The 3 mile wide tornado then tracked towards Pierra, striking downtown at 3:32 PM. Terrified residents in the Pierra Skyline ran for cover as the violent tornado ripped Carmaria Plaza to shreds. The tornado soon dissipated offshore, after moving out of the thunderstorm span.