Lovrodhea
, officially the 
Republic of Lovrodhea 
(Lovrod: 
Vehrpoa ce Lovrodhea
)
,
is a sovereign island country under the region of Southeast Asia situated northeast of the Philippines in the Pacific Ocean. It is composed of approximately 4,925 islands under six major regions;
North Vietrese
,
South Vietrese
,
Adhoce
,
Cechfontor
,
Suaréz
, and
Peñafuerte
. The capital city of Lovrodhea is Nueva Trinidad, and the most populous city is Kalivre, both part of the region of Peñafuerte.
The location of Lovrodhea on the Pacific Ring of Fire makes it imminent to tectonic activity such as earthquakes and eruptions. Lovrodhea's strategic position in the Pacific also makes prone to various typhoons, especially during the El Niño season. The country has an area of approximately 98,442 square kilometers, despite having a fairly small population of 6 million as of July 2016.
Shortly after Ferdinand Magellan's expedition to the Philippines, he and his crew sailed back to Europe, and stumbled upon an untouched piece of land. This marked the beginning of the Hispanic colonization. Hundreds of years later, Lovrodhea was a huge part of the Acapulco-Manila-Sta. Catarina Galleon Trade, briefly having the center in the previous capital city of Sta. Catarina. On 1876, the King of Spain decided to end Spanish rule over Lovrodhea and to abolish the Spanish East Indies, as there were violent revolts among the citizens and the monarchy. The regions of Lovrodhea, Las Islas Filipinas, Benhamo and the Marianas united to become a brief global superpower named Fildhenas.
Lovrodhea remained as a region of the Las Islas Filipinas, renamed Philippines by the American government. However, the Philippines, Benhamo, and the Marianas seperated to continue their own paths as their own respective countries on 1899, despite Benhamo rejoining with the Marianas on 1947. Most recently, on 2004, Lovrodhea seperated to become its own country, as well as the island region of Mindanao becoming its own state.
Etymology
Edit
Lovrodhea's name came from the Kingdom of Lobrod, a strong kingdom who conquered the island before the Spanish came.
WIP
WIP
WIP
Administrative divisions
Edit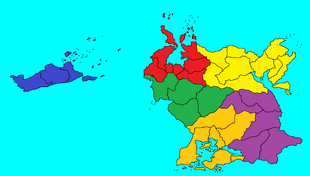 There are six main regions in Lovrodhea; North Vietrese (yellow), South Vietrese (purple), Adhoce (blue), Cechfontor (red), Suarez (green), and Penafuerte (gold). Within these regions are provinces, of which there are 36. 
Geography
Edit
WIP
WIP
Demographics
Edit
WIP
WIP
Ad blocker interference detected!
Wikia is a free-to-use site that makes money from advertising. We have a modified experience for viewers using ad blockers

Wikia is not accessible if you've made further modifications. Remove the custom ad blocker rule(s) and the page will load as expected.