Hurricane Jennifer was the deadliest hurricane ever recorded in OUS history. It was the tenth storm of the 2013 North Cookie Ocean hurricane season. It was also the third major hurricane of the season.
Meteorological History
Edit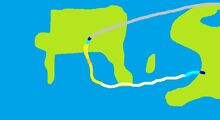 On August 11, 2013, a depression formed in the Bay of Pony. The depression strengthened into a tropical storm and was named Jennifer. Jennifer strengthened into a Category 1 hurricane on August 13, making landfall on Southern Rigela, killing 2 people. Jennifer moved into the Cookie Bay on August 15, strengthening into a Category 2 hurricane. Jennifer attained a peak intensity as a Category 3 hurricane on August 16 and made landfall on Tiki, causing major damage on Port Tiki. Jennifer weakened just before hitting Colossians. Jennifer killed 300+ people in OUS. Jennifer dissipated on August 23.
Retirement
Edit
At the 12th session of the TMO, the name Jennifer was retired after killing over 300 people and more feared dead in OUS. Jennifer was replaced with Jacques for 2019, to fix the mistake in the naming lists.